Why God is the only sound foundation for morality?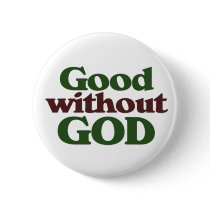 Can we be good without God? At first the answer to this question may seem so obvious that even to pose it arouses indignation. For while those of us who are Christian theists undoubtedly find in God a source of moral strength and resolve which enables us to live lives that are better than those we should live without Him, nevertheless it would seem arrogant and ignorant to claim that those who do not share a belief in God do not often live good moral lives—indeed, embarrassingly, lives that sometimes put our own to shame.
But wait! It would, indeed, be arrogant and ignorant to claim that people cannot be good without belief in God. But that was not the question. The question was: can we be good without God? When we ask that question, we are posing in a provocative way the meta-ethical question of the objectivity of moral values. Are the values we hold dear and guide our lives by mere social conventions akin to driving on the left versus right side of the road or mere expressions of personal preference akin to having a taste for certain foods or not? Or are they valid independently of our apprehension of them, and if so, what is their foundation? Moreover, if morality is just a human convention, then why should we act morally, especially when it conflicts with self-interest? Or are we in some way held accountable for our moral decisions and actions?
Today I want to argue that if God exists, then the objectivity of moral values, moral duties, and moral accountability is secured, but that in the absence of God, that is, if God does not exist, then morality is just a human convention, that is to say, morality is wholly subjective and non-binding. We might act in precisely the same ways that we do in fact act, but in the absence of God, such actions would no longer count as good (or evil), since if God does not exist, objective moral values do not exist. Thus, we cannot truly be good without God. On the other hand, if we do believe that moral values and duties are objective, that provides moral grounds for believing in God.
Consider, then, the hypothesis that God exists. First, if God exists, objective moral values exist. To say that there are objective moral values is to say that something is right or wrong independently of whether anybody believes it to be so. It is to say, for example, that Nazi anti-Semitism was morally wrong, even though the Nazis who carried out the Holocaust thought that it was good; and it would still be wrong even if the Nazis had won World War II and succeeded in exterminating or brainwashing everybody who disagreed with them.
On the theistic view, objective moral values are rooted in God. God's own holy and perfectly good nature supplies the absolute standard against which all actions and decisions are measured. God's moral nature is what Plato called the "Good." He is the locus and source of moral value. He is by nature loving, generous, just, faithful, kind, and so forth.
Moreover, God's moral nature is expressed in relation to us in the form of divine commands which constitute our moral duties or obligations. Far from being arbitrary, these commands flow necessarily from His moral nature. In the Judaeo-Christian tradition, the whole moral duty of man can be summed up in the two great commandments: First, you shall love the Lord your God with all your strength and with all your soul and with all your heart and with all your mind, and, second, you shall love your neighbor as yourself. On this foundation we can affirm the objective goodness and rightness of love, generosity, self-sacrifice, and equality, and condemn as objectively evil and wrong selfishness, hatred, abuse, discrimination, and oppression.
Finally, on the theistic hypothesis God holds all persons morally accountable for their actions. Evil and wrong will be punished; righteousness will be vindicated. Good ultimately triumphs over evil, and we shall finally see that we do live in a moral universe after all. Despite the inequities of this life, in the end the scales of God's justice will be balanced. Thus, the moral choices we make in this life are infused with an eternal significance. We can with consistency make moral choices which run contrary to our self-interest and even undertake acts of extreme self-sacrifice, knowing that such decisions are not empty and ultimately meaningless gestures. Rather our moral lives have a paramount significance. So I think it is evident that theism provides a sound foundation for morality.
Contrast this with the atheistic hypothesis. First, if atheism is true, objective moral values do not exist. If God does not exist, then what is the foundation for moral values? More particularly, what is the basis for the value of human beings? If God does not exist, then it is difficult to see any reason to think that human beings are special or that their morality is objectively true. Moreover, why think that we have any moral obligations to do anything? Who or what imposes any moral duties upon us? Michael Ruse, a philosopher of science, writes,
The position of the modern evolutionist . . . is that humans have an awareness of morality . . . because such an awareness is of biological worth. Morality is a biological adaptation no less than are hands and feet and teeth . . . . Considered as a rationally justifiable set of claims about an objective something, ethics is illusory. I appreciate that when somebody says 'Love they neighbor as thyself,' they think they are referring above and beyond themselves . . . . Nevertheless, . . . such reference is truly without foundation. Morality is just an aid to survival and reproduction, . . . and any deeper meaning is illusory . . . .
1
Click

HERE

to continue reading